Humans of Liberty North: Lucy Vitug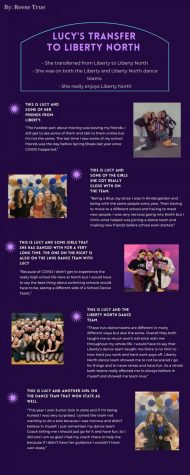 Junior Lucy Vitug is a new student at Liberty North High School. She transferred from Liberty High School at the beginning of this year and she ended up really liking the atmosphere and people that go to Liberty North.  When Vitug had to move, she didn't get a choice. She had to move to Liberty North for her junior year whether she wanted to or not.
"Since I moved houses in the beginning of my Sophomore year, I was able to stay for the rest of my Sophomore year at Liberty High School then had to leave my Junior year to Liberty North," Vitug said. 
Vitug claims to really like Liberty North. She came to school the first day not really knowing anyone and not knowing what the school was going to be like, but she ended up really enjoying it.  
"This is my first year at liberty borth and so far i really like this school. Everyone I've talked to has been so sweet to me and the teachers here at north are always willing to help.", Vitug said. 
Vitug says that it was a lot easier to come to school because of joining the dance team and having at least a few friends before the first day because that is what she was most scared of. 
"Being a Blue Jay since I was in Kindergarden and being with the same people every year. Then having to move to a different school and having to meet new people. I was very nervous going into North but I think what helped was joining a dance team and making new friends before school even started," Vitug said. 
Vitug really enjoys the Liberty North dance team. She likes being able to see the difference in schools dance teams because there were some differences between Liberty north and Liberty's dance teams.
"Because of COVID I didn't get  to experience the really high school life here at North but I would have to say the best thing about switching schools would have to be, seeing a different side of a School Dance Team," Vitug said. 
Vitug says that it was hard moving school. She had made such good friends throughout the years she spent being a Blue Jay. It was hard to leave them and knowing that she was going to have to make all new friends moving to a different school. 
"The hardest part about moving was leaving my friends. I still get to see some of them and talk to them online but it's not the same. The last time I saw some of my school friends was the day before Spring Break last year since COVID happened," Vitug said. 
After being on both the Liberty and Liberty North dance teams, Vitug can explain the different ways each team affected her in a positive way. There are also things about the dance teams that are similar. 
"These two dance teams are different in many different ways but also the same. Overall they both taught me so much and it will stick with me throughout my whole life. I would have to say that Liberty's dance team taught me there is no limit to how hard you work and hard work pays off. Liberty North dance team showed me to not be scared / go for things and to never stress and have fun. As a whole both teams really affected me to always believe in myself and showed me team love," Vitug said.
Luci won her solo at state this year. She did not think it would happen, she didn't even want to do a solo since she was new to the team. But she claims that without her coach pushing her and making her more confident in her dancing, she would not have won state.   
"This year I won Junior Solo in state and if I'm being honest I was very surprised. I joined the team not wanting to do a solo because I was nervous and didn't believe in myself. I just remember my dance team Coach telling me I should just go for it and have fun. So I did and I am so glad I had my coach there to help me because if I didn't have her guidance I wouldn't have won state," Vitug said. 
Vitug stated she is very excited for next year. She knows she will have fun and the team will have a good experience even though she is new to the team. 
"I am so excited for next year's season. I know that I'm new to the team but I can see the potential in this team. I believe that we can have an even better season next year," Vitug said.
Vitug wants to dance in college. She believes there is no point in spending all this time, effort, and money into dance if she isn't going to take all the opportunities she can get with it. 
"Yes I do, dancing for my whole life. I don't just want to throw it away when there are so many opportunities," Vitug said.