Humans of Liberty North: Haylee Ace
It's important to make sure you're planning and preparing for your future, and sophomore Haylee Ace is doing just that.
"I'm thinking about medical or science research epidemiology and stuff like that, maybe nursing. Because I really like research and don't want to do 8 years of college." Ace said.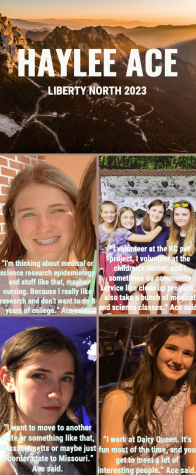 Since all of those are very difficult career options, she is making sure to plan ahead by doing community service and taking the right classes in high school.
"I volunteer at the KC pet project, I volunteer at the children's center, and I sometimes do community service like clean up projects, I also take a bunch of medical and science classes." Ace said. 
As for what college she wants to go to, she isn't really set on an exact college, but she does know where she wants to be,
"I want to move to another state or something like that, Massachusetts or maybe just a border state to Missouri." Ace said.
Even though she is busy planning for her future career, it doesn't stop her from being financially independent right now.
"I work at Dairy Queen. It's fun most of the time, and you get to meet a lot of interesting people." Ace said.