The Imaginary Invalid: Putting the Show Together
An In-depth look at Liberty North Theatre's Winter One Act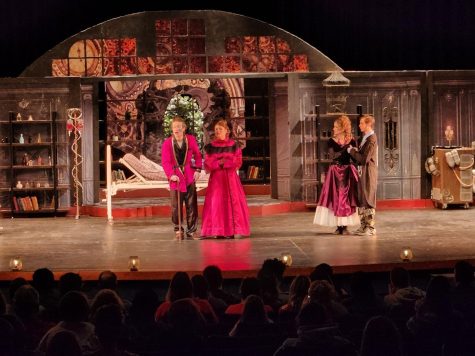 On February 10th and 11th, North's theater program performed a one-act show, something done annually. This year, the production was the satirical comedy The Imaginary Invalid by playwright Moliére and adapted by Timothy Mooney. As with any play or musical, The Imaginary Invalid comes with excitement and challenges. 
   "The Imaginary Invalid is a French comedy intended to mock medicine during the time period (the play premiered in 1673). We've condensed the three-act play into a one-act so we can compete with it. It's full of dramatic, stereotypical characters, and the actors from Liberty North do a great job playing them," senior Emmy Braden, who played Beline, said.
   Sophomore Gianna Russo-Hicks, who was part of the doctor ensemble, explains the plot further.
   "The Imaginary Invalid is about a hypochondriac in the 1800s. He wants his daughter to marry a doctor so he can get free care because he thinks he's sick, but he's not. Throughout the show, he's forcing his daughter to marry this guy who is going to be a doctor, but he's pretty stupid. That's what makes it funny. His [hypochondriac] sister is like, 'why don't you become a doctor?' since he knows so much. He gets a degree and a lab coat, and that's how it ends. Everyone lives happily ever after," Russo-Hicks said.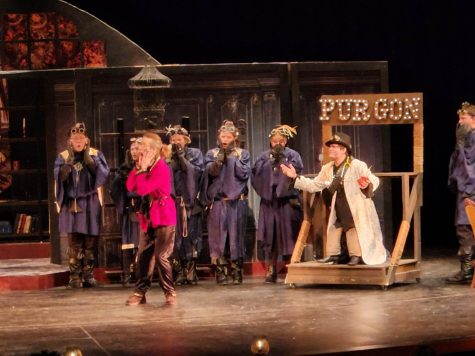 When working in the theater, there is always more to the show than what meets the eye. The cast and crew faced many struggles while preparing for opening night.
   "At first, we were going to perform our show with French accents. It was a tedious process, learning all the different sounds we had to change to sound French. Unfortunately, we weren't as easily understood as we needed to be to compete, so we had to take the accents out after a couple of weeks. Weirdly enough, readjusting to the American accent was another obstacle in itself! There is a lot that goes into a play that the audience never sees," Braden said.
   Russo-Hicks describes the importance of keeping the energy on stage high.
   "I think the biggest challenge is making sure we keep it [acting] all together instead of slowing down. The show is not as funny when things fall off. We have to keep the lines going and bring the energy to make it funny," Russo-Hicks said.
   However, from the family-like atmosphere to the scenes, there were many positives to being in The Imaginary Invalid.
   "I'm one of two freshmen in the show, so it was really cool to interact with upper-classmen and have that upper-class family," freshman Lauren Groves, who played Louison, said.
   Freshman Hannah Woodruff, who was in the doctor ensemble, feels similarly to Groves.
   "I'm one of two freshmen in it, so it's really interesting to work with the upper-classmen. It's a senior-dominated show. I get to learn from them through their work ethic and style. It's been really fun," Woodruff said.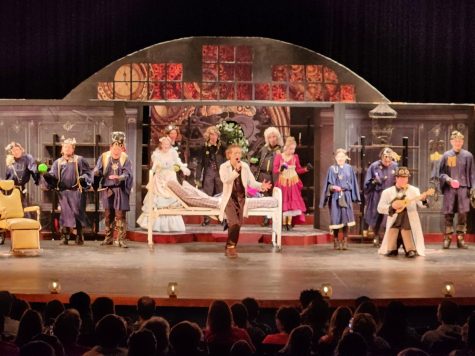 The show itself was also enjoyable not only for the audience but for the actors as well.
   "My favorite part in the show is when Argon, played by Tyler Parsons, discovers his wife is a gold digger. When he's pretending to be dead, she comes in celebrating. He wakes up and scares her, and calls her a hussy. It's funny," Russo-Hicks said.
   The Imaginary Invalid is one of North's last theater productions of the year, but you can still catch performances before school ends. Picture Perfect, the Reader's Theater, is March 1st. Reader's Theater is a production that doesn't require the cast to be off-script, and they only use their voice to tell the story, whereas plays and musicals use props and acting. Liberty North's spring play, Good Kids by Naomi Iizuka, is scheduled for April 27-29. 
   Groves and Braden advise those wanting to get involved with theater but may be hesitant to persevere, be patient, and be fearless.
   "Keep trying and be patient with yourself. The more experience you have, the more likely you are to be cast or help out. And being part of theater doesn't always mean being part of the cast. You can be part of the crew or build sets. There are so many different parts of fine arts that you can go into," Groves said.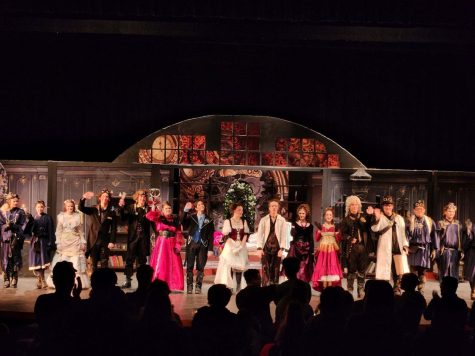 Woodruff elaborates on another perspective of patience.
   "Don't audition thinking you'll get everything you want because you might not, and that's okay. It's definitely worth it to try and see what happens. Plus, the people there are so much more amazing than the show could ever be," Woodruff said.
Braden gives advice for not only members of the theatre program but all students at North.
   "If you're going to let anything hold you back in life, don't let it be a fear of embarrassment," Braden said.