The Band and Orchestra's Thoughts on Heading to MMEA
     This January, Liberty North's Chamber Orchestra and Wind Symphony will be performing at the 2023 Missouri Music Educator's Association Conference.
     "MMEA stands for the Missouri Music Educators Association and is the state conference that occurs each year at Tan-Tar-A, Osage Beach, MO. Music educators, musicians, colleges, and professors come from all over the state for three days for clinics, lectures, and to hear ensembles perform. There is nothing higher at the state level," Orchestra Director Alysse Trusty said. 
     Trusty was excited to have this opportunity, as this is her first time going to MMEA to conduct. 
     "It's a well-deserved honor and an exciting one. The work that will go into this performance will be an endurance test and a tough experience. But, our student musicians are incredible and will no doubt exceed expectations making it a memorable experience and a rewarding one!" Trusty said.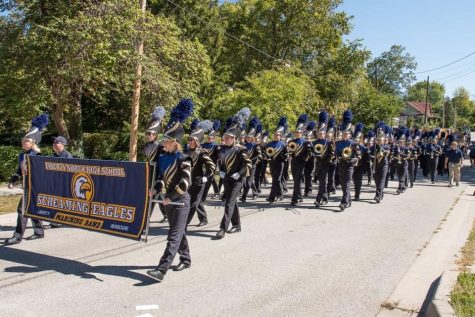 The selection process is long and rigorous. The panel of judges wants the best ensembles in the state to perform. There are five orchestras and three bands in the state going to MMEA.
     "To be selected you have to send in a recording of three pieces of different styles. Whoever is in charge of the bands seeks out an out-of-state panel of judges to listen and evaluate the groups. Once you're selected you have to wait four years to go back again. Otherwise, it can be the same bands year after year after year," Band Director Michael Fuller said.
     Not only are the band and orchestra directors proud, the members of the selected groups' confidence as musicians have boosted as well. 
     "It's definitely pushing me to practice more and do more. I feel worthy of that honor, a little bit insecure but in a way that's going to make me better," senior Claire Bogaard said. 
     Senior Emily Coleman feels similarly to Bogaard.
     "It makes me feel good about our group last year when we submitted our recording, to know that the state conference judge, or whoever was deciding, thought that we were good enough to perform at a state event. It boosts your confidence. Even when some rehearsals don't go as well as others, at some point we're performing at a high level," Coleman said.
     Both Fuller and Trusty compared heading to MMEA to not only going to State Championships but winning State Championships. It's also a similar accomplishment to getting a 5 on an AP test and a 36 on the ACT.
     "This opportunity is a testament to the hard work, the passion, and the teamwork that the orchestra program has created and maintained. I'm really proud of the students both last year and this year, and I appreciate all of the support our administration, our building, and our community continue to provide as we prepare," Trusty said.