Women's Swim and Dive: An Insider Perspective
Get an insider perspective on what went into junior Avery True's record break and state titles for Women's Swim, along with her hopes for the future.
Q: When and where did the state tournament take place?
A: The state tournament was at the St. Peter's Rec-Plex on February 17 and 18 in St. Louis.
Q: What training went into this?
A: So we had been training since mid-November up to State, and then we were tapering for a week and a half leading up to it. For taper, we kind of just went down in yardage, we worked a lot on starts and turns, and got the relay starts down.
Q: What were your thoughts while competing for both the 200 Free and 500 Free?
A: I was really just trying to go my hardest and race the people next to me. I have been looking forward to State all year, so I was just really excited.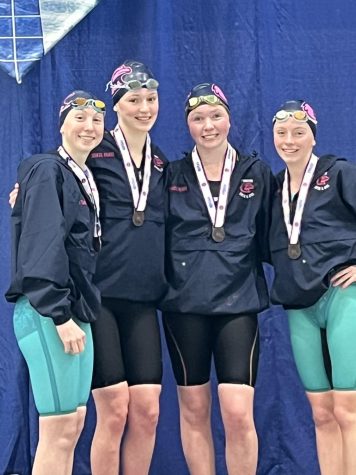 Q: What were you thinking after you won these events? What were you feeling?
A: I was feeling really happy because both my parents and teammates were happy for me. It was just a great feeling to have.
Q: Did you know that you had beaten the MSHSAA record for the 500 Free? If not, when did you find out? 
A: While I was swimming, no, because it was kind of unexpected. I was neck in neck with the girl next to me the entire time, so I wasn't really focusing on times.
Q: What were you thinking or feeling when you did find out you had beaten the 500 Free record?
A: I looked up at my parents, and they were really excited for me. I had just untouched the girl next to me by just a little bit, so I was happy about that. Then, I looked up at the board and saw that I had beaten the record, which was pretty cool. Going into this, I knew the record was really fast, and I wasn't really expecting to go that fast. I was just trying to just race the girl next to me. 
Q: What time did you end up having for the 500 Free and 200 Free?
A: I went 4:54.12 in the 500 Free and 1:50.55 in the 200 Free.
Q: What do you hope for in next year's season? 
A: Next year's season, I'm hoping to go faster, of course, and I want to break 1:50 on my 200 Free. I just want to do it all again.
Q: Do you do any swim outside of school? If so, what does that look like?
A: So I swim for the Tsunami Swim Team for club and that is year-round. I start it right after high school and then do it the entire year, the entire summer, until the next high school season starts.
Q: How does club impact you?
A: I would say it impacts me in a good way because going into the high school season, I'm more ready, I had been swimming for a while, I got my endurance up. So it helps me throughout the year and to ease into things.