Liberty's Hot Spot for Mediterranean and Greek Cuisine
Jerusalem Cafe in Liberty
If you want delicious, authentic Mediterranean, you should head down to Jerusalem Café. Serving a multitude of options like Falafel, Baba Ganouj, Gyros, and Mousaka, they can satisfy every craving. They have something for everyone like their famous Hummus. It's the perfect texture and is rich in taste especially when mixed with hot sauce. Their flaming cheese dip is one for cheese lovers. Melted Mediterranean cheese cubes with tomato, za'atar, and onion, it's an either-or scenario. A non-cheese lover, like me, may not enjoy this dip, but it's perfect for those who do love cheese.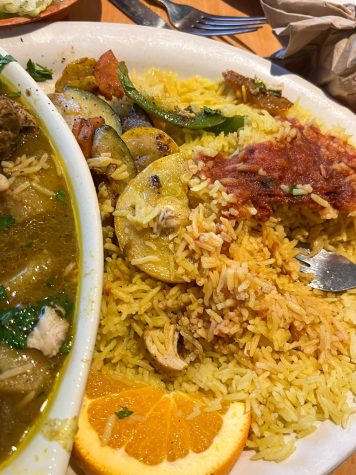 To refresh yourself, they have Turkish coffee, herbal teas, and flavored lemonades like Cherry. You get a side with your entrees of either pita bread, lentil soup, olives, or feta cheese. The chicken curry is rich in flavor with an enticing aroma. The savory chicken is carefully seasoned 
and accented by spices and herbs. Cooked with potatoes, carrots, and squash. The chicken is marinated and you can taste the flavor in every bite. Yellow rice and pita bread are included on the side adding an extra level of exquisite. 
The restaurant itself is a calming environment with helpful staff. The servers are patient and check up on you a perfect amount of times. This is definitely not a restaurant to miss. You don't have to go on my word alone, Jerusalem Café has multiple awards. Although they started off small, they've grown into 3 main locations and many food trucks.
You can visit them at 9263 NE 83rd Terrace, Kansas City, Missouri, 64158. Also at (816) 429-8003.