Color Guard Competitions Come to an End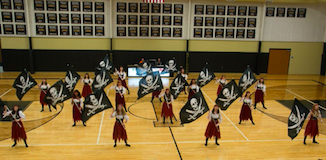 Color Guard came to an end with their last competition in Trenton, but they've been working hard the whole season.
"At the beginning of the season, I think the team members that were new to guard didn't really know what to expect so competition wasn't really taken seriously. After the first competition, they realized what it was really like and the whole team started focusing more during practice so we could really become the best that we could be," junior Aashree Gandhi said.
Competition, after competition they continued to improve until they reached their final competition.
   "We ended the season with the Trenton Marching Festival. My favorite competition was Lee's Summit North because I got to watch a couple other bands that were really good and they inspired me to keep improving my skills as a color guard member," sophomore Shelby Hering said.
Some members of the team are really proud they did so well over the entire season, and are happy with the way they finished.
"With the last competition, I think we did really well. We did the best that we could and I'm really proud of us. after marching season was over, I went back and watched our first performance in comparison to our last and the improvement was shocking- and I mean that in the best way possible. we really stepped up our game and it definitely showed at our last competition," Gandhi said.
In the end, some of the girls learned skills that they continued to improve upon, and can now carry them with them into winterguard.
"I use these experiences to help me with winterguard by continuously challenging myself to learn more tricks and improve my basic technique, as well as to make this winterguard show the best it can be," Hering said.