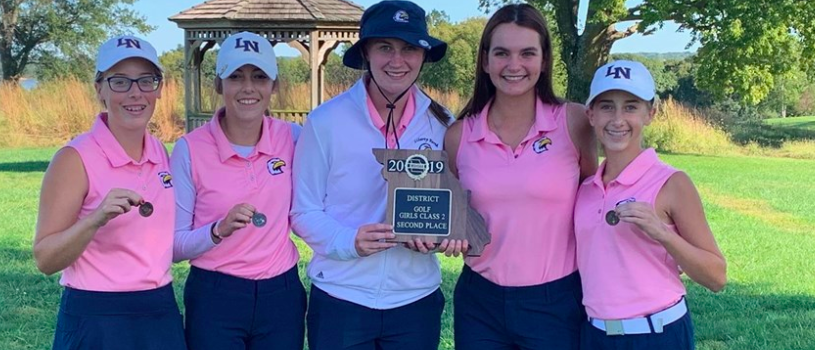 Women's Golf Takeover
October 24, 2019
With any team, it is essential to be able to work together. One team that does not seem to have this problem is the Women's Golf Team, which has only one match left this season at the Class 2 State Tournament, likely due to their dedication on and off the field.
"There's not any team golf practice after the season ends but most of us work during the offseason to be prepared for the next season. I practice golf almost every day. I have lessons 2-3 times a week and then when I don't have lessons I go to Shoal Creek or Liberty hills and play or practice." freshman Kate Braden said.
While the girls practice a lot, they have been able to build useful life skills through their practices and managing their course loads. The girls miss about one day a week of school and must make up the assignments they miss on their own time. This situation led to the development of skills like time management and communication.
"Just communication skills, teamwork building. It's a team effort, but you also have to learn how to be able to compete by yourself and be able to get along with other people. And you have just that bond between you and your teammates or other people but you do miss a lot. Luckily, you are only gone for at least a day, but those days can start adding up quickly. So just trying to get here either morning or I am staying after school is just whatever I can do to be able to get those grades back up or keep on task." junior Olivia Hellerich said.
Despite how much time they are out of school, the girls appear to be managing well. The team is also very young this year with a good addition of freshmen and sophomores. These young girls are also doing very well, some even making it to the State Tournaments.
"I feel good about the season so far. I think that we have grown throughout the season. I'm happy with how my season has been going. It's my sophomore year so I am trying to gain experience. The season has been very enjoyable." sophomore Averi Mickelson said.
There is also a new coach this year named Stephanie Stiles. Stiles is th first female coach for golf and aids the girls with practice and preparing for their match.
"She's great. She's gonna like the mom of the group. Most of us go to her for advice about other girls on the team or just advice in general about our lives. And she's been great," Hellerich said.