First Year with Andy Lierman
   Passes. Rushes. Touchdowns. Field goals. All of these are different parts of football, but none of them would be possible without a coach to guide the players. Here at North, football is a major part of the culture, and new head coach Andy Lierman has continued that feeling this season. Stepping into a new role, Lierman was able to use his past coaching experiences to help him this season.
   "I was able to learn and figure out how to do different aspects of coaching over the last 19 years before becoming a head coach. I was able to get some good experiences that gave me perspective and understanding of what this job really entails," Lierman said. 
   But coaching is not an easy job. With an entire Class 6 program to manage, it can be hard to stay motivated sometimes. However, Lierman takes this all in stride and takes the steps he needs to keep going.
   "I think a lot of times when you have trouble winning, or you feel like maybe you are not doing as good of a job as you should, you fall back on all the things that have gotten you where you are. For me, it is just working hard, it is holding coaches accountable, it is trying to do everything we can, whether it is scheme-wise, or it is within our program, and accountability-wise to make sure we are getting everything out of our players and our coaches," Lierman said.
   A supportive environment can be helpful in many situations. Settling his players down and reinforcing different strategies can help Lierman create that environment.
   "We give him the score and we go back to the bench and we get an adjustment and he settles us down and he does a really good job at just reinforcing us and making sure everyone is ready for the next try," junior Trey Snyder said. 
  No matter the team's record, students and staff support the team with home game crowds nearly overflowing the stadium. Though the culture at North is not just all about football, it fits into place around all of the other school activities. 
   "The environment at North excites me because I feel like everyone is passionate about what they do. No matter what you're involved in, everyone takes their piece and they run with it, and they try to do a good job, so being just a small part of that excites me. I just try to do a good job of taking that piece, that culture, and trying to make my piece just a little bit better to enhance the whole thing," Lierman said.
   The excitement Lierman feels about the culture at North transitions to gamedays in many different ways. His players notice that and it can make playing for him a positive experience. 
   "I really love the game day attitude that he presents, he has a defensive mentality and that's what I love, he's just all go "all gas no brakes" as we like to say," Snyder said. 
   The relationship between a player and a coach can set the tone for how a season goes.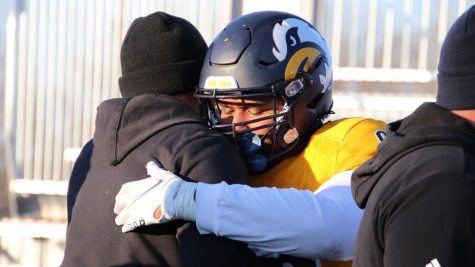 Making sure that his players know that he cares about them is a high priority for Lierman.
   "If you can get them to believe in you and trust you and do all of those things, they play hard for you. But in that whole process, kids start to trust you and value you as not only a coach but a mentor and then eventually sometimes as a friend because they are lifelong relationships that go on forever," Lierman said. 
   Those relationships that are formed can lead student-athletes to not only perform better but also to gain experiences that will help them later in life. Being a part of a team sport builds a variety of skills from learning important values to being in good physical shape.
   "There are just so many opportunities that kids get within sports, to grow and get better, to build character, to understand what a good teammate looks like, and to understand what it is like to be counted on and have accountability. So it motivates me a lot to make sure that our programs run well so that our kids reap the benefits of the sport that they play," Lierman said. 
Check out Haley Dillard's photo gallery recap of the year: