COVID-19's Impact on Athletic Strength Training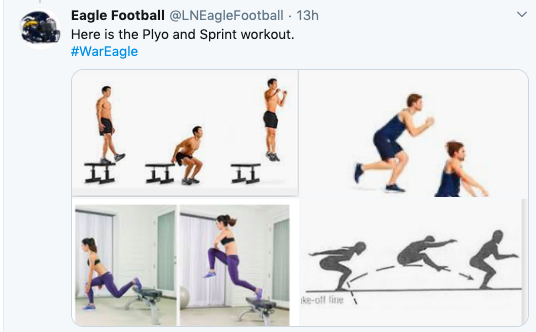 The coronavirus pandemic is something none of us have ever experienced. Hundreds of thousands of cases have been reported all over the globe. Thousands of deaths of all ages. It is a terrifying virus. The coronavirus has caused schools to shut down all over the United States. That means all sports and events are canceled, possibly for the rest of this school year.
Schools have switched to online schooling, but some classes are more difficult than others to do at home. One example of this is Athletic Strength Training. It is a strength training class for student-athletes. The coaches here at Liberty North haven't wavered or paused their plans to continue to have student-athletes to workout at home."
"The coaches are putting together the total body workout program, to replace, as best we can, the workouts that we do in class," Coach Andy Lierman said. 
Instead of focusing on certain muscles to improve, they are doing full-body workouts to work every muscle, since there are a variety of full-body workouts that everyone can access. 
The coaches are creating two different workouts students can do.
"One of the workouts is designed if you do not have any/or minimum equipment available to you. The second workout is the designed workout for class if you have the equipment," Lierman said.  
What is the toughest problem during this whole online school program?
"For me, it is not seeing the students.  I miss the day to day contact with them," Head Football Coach and Athletic Strength Coach Greg Jones said.