Humans of Liberty North: Layne Matthews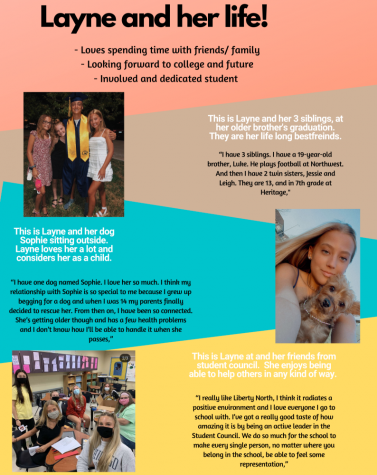 Junior Layne Mathews is a very dedicated student at LNHS. She spends most of her time with friends, showing school spirit, and maintaining a 4.0 GPA. She seems to find a way to achieve everything she does.
Mathews claims to have a very busy life in the context of family. She tries to make the best out of it but it also gets to be too much sometimes.   
"I have 3 siblings. I have a 19 year old brother, Luke. He plays football at Northwest. And then I have 2 twin sisters, Jessie and Leigh. They are 13, and in 7th grade at Heritage. Life with so many people around me 24/7 definitely has its ups and downs. Some days I love knowing I'll never be alone, and others that's all I want," Mathews said. 
She also has a dog named Sophie. She is a 12 year old Yorkie. Mathews has a very strong connection with Sophie, as it was her first dog she's ever owned.
 "I have one dog named Sophie. I love her so much. I think my relationship with Sophie is so special to me because I grew up begging for a dog and when I was 14 my parents finally decided to rescue one. From then on, I have been so connected. She's getting older though and has a few health problems and I don't know how I'll be able to handle it when she passes," Mathews said.
She is a junior at LNHS. She really enjoys going to school events because she likes the positive radiation it gives off and likes being around everyone there.
"I really like Liberty North, I think it radiates a positive environment and I love everyone I go to school with. I've gotten a really good taste of how amazing it is by being an active leader in the Student Council. We do so much for the school to make every single person, no matter where you belong in the school, be able to feel some representation," Mathews said. 
After high school, she wants to go to Mizzou for her college years. She loves math so she knows that she wants to end up studying and getting a job that involves math.
"I like the atmosphere and I like that Columbia isn't a super small town, because I can't handle living in a small town. I think I want to become some type of an accountant and Mizzou has a really good accounting program," Mathews said. 
After college and when Mathews finds a job and figures out what she is going to do with her life, she would like to move somewhere warm like Dallas. She likes living in the warm rather than the cold. 
"I want to live in a warm big city. I'm thinking somewhere like Dallas where it usually doesn't get super cold in the winter. I don't like the cold so once I get the chance to go somewhere warm, I will move," Mathews said.