Humans of Liberty North: Emma Huyser
Junior Emma Huyser is an involved student at Liberty North High School. She is in several clubs and also created her own club called Kindness Club. She had been thinking about making a club for a while and eventually created the club at the beginning of this year. 
"Kindness Klub is a club created at Liberty North to provide a sense of community and spread kindness within our community," Huyser said. 
Huyser claims to have created Kindness Club because of the different effects Covid was having on the kids going to school. School had changed a lot and p
eople were having a hard time thinking positive ,so she found a way to help kids think positive. 
"I created Kindness Klub because over the summer and at the beginning of the school year, I felt disconnected from the school and the peers around me due to all the new Covid rules and restrictions within the school. I wanted there to be a club that focuses on mental health, and the power of kindness. The goal is to create a co
mmunity that people can go to whenever they feel down or need help. Also to spread as much kindness as possible within our community," Huyser said. 
There are a lot of different things kindness club has done throughout the year. They have done projects, service hours, and different positive activities. Huyser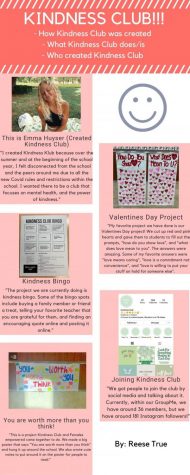 and the kindness club executive have come up with many creative things for everyone throughout the school to participate in.
"My favorite project we have done is our Valentines Day project! We cut up red and pink hearts and gave them to students to fill out the prompts, "how do you show love", and "what does love mean to you". The answers were amazing. Some of my favorite answers were "love means caring", "love is commitment not convenience", and "love is willing to put your stuff on hold for someone else". The project we are currently doing is kindness bingo. Some of the bingo spots include buying a family member or fri
end a treat, telling your favorite teacher that you are grateful for them, and finding an encouraging quote online and posting it online," Huyser said. 
After Huyser decided on what club she wanted to create, she had to figure out how to actually create it. She went through many emails and steps to create it, but she eventually did it.  
"The first thing I did was email my counselor and then she set me up with the director of clubs for Liberty North. After talking to her about my idea, she set
 me up with Mrs. Higgins because she was once an advisor for a similar club. I then met with Mrs. Higgins, and we set up a meeting and got things going," Huyser said. 
People joined the club by hearing about it and seeing it on social media. Huyser states that there are quite a bit of kids that joined the club this year. The instagram is also followed by people not even in the club, just to see the positive things posted.  
"We got people to join the club by social media and talking about it. Currently within our GroupMe, we have around 36 members, but we have around 181 instagram followers," Huyser said. 
Huyser's goal for kindness club next year is to participate in a lot more and have more service hours. This year they didn't get many opportunities because of covid. She just wants to improve the club overall. 
"I'm looking forward to doing a lot more service projects next year, and just growing in general as a club," Huyser said. 
Huyser claims to love seeing the effect kindness club has had on people in the past year. She loves seeing people interact with the different things the club puts out there. It shows that the club is having a positive effect on kids. 
"My favorite part is seeing the joy it can bring people. I love seeing people repost our posts on their stories, answering the questions on our stories, and just talking about it at school," Huyser said. 
Kindness club gets their ideas in many ways. Huyser comes up with a lot and so do the kids in the club. If they have anything they want to do they are welcome to suggest it so Huyser and the executive can see it and let everyone know. 
"Some of it is stuff I have thought of for years, but some of it is also ideas provided by other members of the club! At every meaning there's an attendance google form and one of the questions on there asks if they have any suggestions, and there have been a lot of good ideas that have come from it," Huyser said.