The Screaming Eagles
The Liberty North Marching Band
  In the Screaming Eagles Marching Band there are approximately 160 students.
     "I really like the community it has and the opportunity you have to make relationships with the people in your section but also just the band in general," Junior Alondra Valdez said.
     Band has always been a good way for people to connect with other people however it can be a lot of work and can be stressful.
     "We have a lot of marching band rehearsals. We start at 7am before school where we run drills which is the movement for our show and then we practice our music and everything together," Senior Madison Tucker said.
     A lot of work goes into band including before school practices, summer practices, and practicing after school by yourself and this is all on top of the competitions, festivals, and home games that they play.
      "I practice my music a lot and then I have to go over it a lot because some pieces need to be memorized for when you're marching," Freshman Zoe Hood said.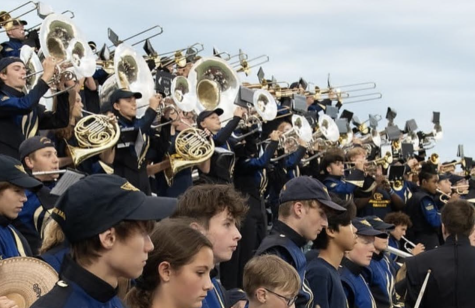 Everybody in the band has different reasons for joining the band, some are funny and others are simply they wanted to try something new.
      "I knew my mom and my cousin and my neighbor all played the clarinet so this must mean I have to play Clarinet I don't know why I came to that conclusion but I had to play the clarinet which meant band but I was actually really bad at Clarinet when we did the little mouthpiece test I wasn't very good but I was good at brass I just didn't want to do brass so somehow I landed on the Saxophone," Valdez said.