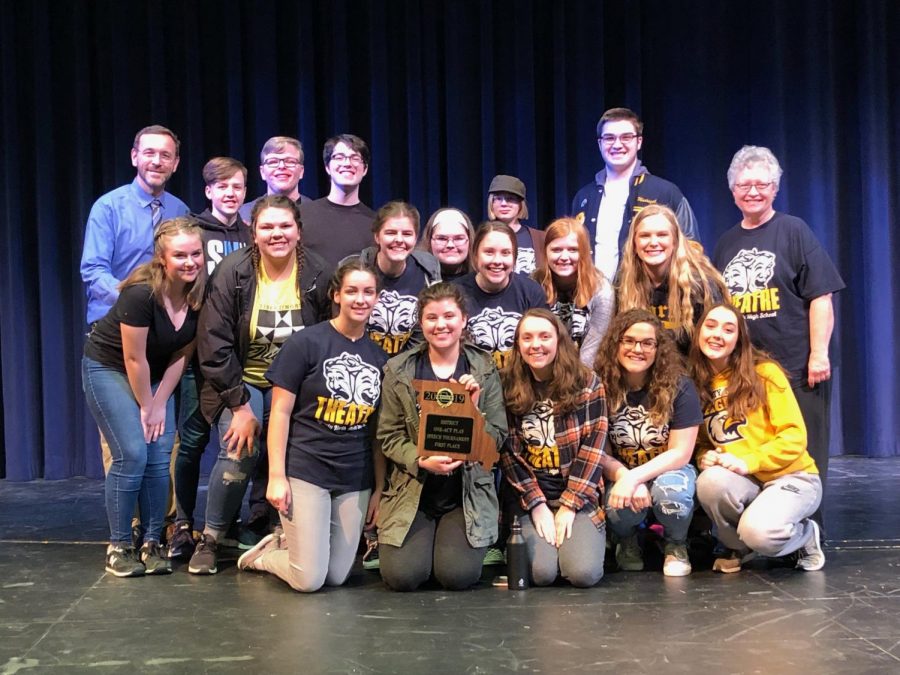 Liberty North's Districts
March 15, 2019
  Every year, Liberty North's spring play and readers theatre programs go to districts to see if they qualify for state competition. This year's spring play is called Quilters. It is about pioneer women and how they overcome multiple obstacles and come together. The reader's theatre is called The Interference, and it is about a college rape case that goes to court and how the victim is not going to remain silent, no matter what the media is telling her.
  "I think our readers have an extremely good chance at going to state. The top two shows go to state. Our readers are very powerful and about a very relevant topic, rape on college campuses. Quilters, our one act has a good chance as well. The cutting is a little choppy but we still have a lot of powerful moments in the show," junior Hannah Samson said.
  When taking the spring play to districts or to state, they have to shorten the show to around 35 minutes. They have ten minutes to set up the set before the show, and ten minutes to take everything down after the performance.
  "It is very difficult to get a good flow and transitions in the cut-down version of the show, but sometimes the cut-down version can be more powerful than the full-length version. This is mostly depending on the show though." Samson said.
  This year, both Liberty and Liberty North's one-acts will be going to state to compete. At districts, North got first in one act and third in reader's theatre, while Liberty got second in one act and first in reader's theatre.
  "We have to pack our entire set props and costumes in a truck then drive to Springfield. We compete the first night and then stay in a hotel if we make it to the next round. We then perform again the next day. After performing the second day, we head home. We hear how we scored and our placement once we get back home. It's super fun though, we usually go to an arcade and out to dinner with the directors, cast. and crew," Samson said.