Lighten The Load
Hang on for a minute...we're trying to find some more stories you might like.
According to the New York Times, the average backpack of a student weighs around 18.4 pounds, with some weighing as much as 30 pounds. This heavy weight can lead to a number of problems in teens' future.
"My backpack is heavy because I have to have a notebook and a folder for every class. I've gotten used to the weight so it doesn't really bother me anymore but my back still hurts every now and then," senior Grace Kappler said.
A heavy backpack causes the wearer to lean forward, which can result in rounded shoulders or a forward head. This can lead to tight muscles and strain on the neck.
"I think my backpack has caused me to have bad posture. I have pre-existing back problems already and the added weight of my backpack makes it worse," senior Avery Covey said.
Increasing core and back strength can help lessen the pressure of a backpack, or simply taking things out to lighten it up can help prevent future back and neck problems.
"I try to clean by backpack out every couple of weeks to keep it from getting too heavy. A lot of the papers I have in it I don't need for very long so cleaning it out helps lighten it up," Covey said.

About the Writer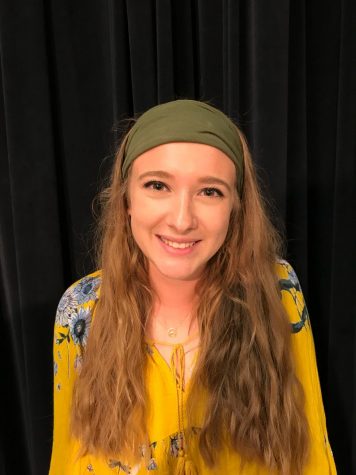 Kaylen Aldridge, Editor in Chief
Hey, I'm Kaylen and I'm the Editor in Chief for the Eagle's View Newspaper this school year. I absolutely love nature and everything outdoors. When I'm not at school, you can probably find me hiking or kayaking with a big cup of green tea somewhere.  I love a good adventure and am currently on a mission to complete the bucket list I made in 2010 by the time I graduate college. Most recently, skydiving was crossed off of that list. I love meeting new people so if you ever see me, come talk to me about nature, dogs, New Girl, tennis, and honestly anything else. I'm super pumped to be leading the Newspaper staff this year and I can't wait for you to see what we create!