Keeping Up With the Guardashians
Hang on for a minute...we're trying to find some more stories you might like.
  Underappreciated, elegant, and committed are just a few verbs that come to the minds of the members of Liberty North's guard when asked about what they think describes them as a whole. The Color Guard season typically begins with tryouts, then camps and practices beginning over the summer and ends as October does. Competitions vary through the months of September and October with 7:00am practices with the marching band during the week alongside practices after school on Mondays, Thursdays, and occasionally Saturday mornings.
  "I decided to take on guard while also being a part of the marching band because I love them both so much. I couldn't imagine not marching on the field with my instrument, but I saw how talented the girls on the Color Guard team were and I knew I also wanted to be a part of that. I loved watching them at competition and I never thought I'd be able to do half of the things they did, but here I am. Looking back now, the only reason why I didn't join before junior year was because I was intimidated by the other girls and their skills. I thought if I joined I would be the weak link that makes the team look bad, but I wasn't. They all went out of their way to help me catch up to them. They were so kind about when I was doing something wrong and they tried to help me all they could. If I would have known they were going to be so helpful and welcoming I would have joined my freshman year," senior Briana Byrd said.
  Tryouts kick off the Winter Guard season as soon as the Color Guard season has ended. Competitions occur starting in January, but practices begin months in advance. Working an average of ten hours a week for the Winter Guard season and practicing an average of twelve hours for the Color guard season is just one different between the two.
  "The main difference between Color Guard and Winter Guard is that, in the summer and fall, Color Guard is out on a football field with the marching band, bringing the band's music to life with colorful silks, weaponry and dance, sometimes even acting out the story of the show like we did in this past marching show, 'X Marks the Spot'. Then, after marching season, the band breaks off and goes into concert band and we change into Winter Guard and preform on our own and on a tarp that's over a gym floor. We get to express a song of our coach's choice and are a lot closer to the audience and are preforming for people who also have a love for guard," sophomore Shelby Herring said.
  Beyond the high school experience is a lot more. A majority of colleges that have a football team hold auditions for their Color Guard, but those teams rarely ever compete, they mainly perform during the halftime shows of the school's home football games. Most colleges don't have Winter Guard teams, but there are many Independent teams that people of all ages in the area can join. Being a part of a team like guard for so long has created many bonds and has changed people's lives for the better.
  "When I graduate next year, I plan to try and find a college Color Guard team to join and possibly an Independent Winter Guard team. Ever since my first practice I have fell in love with guard. I realized I wanted to be a coach my sophomore year. I saw how much my coach loved coaching us and her love for guard, just like me. I love the idea of teaching others how to do something that I love to do. I want to write my own show, organize competitions, and pick out beautiful outfits and silks for my team. I want to be a role model, someone that people look up to. Joining guard made me a happier person. Being a part this team made me realize I have so many friends who care about me and love me for who I am. We are like a big family and are always there for each other. I have had such an amazing experience with this team and being on this team has taught me so much. I wouldn't want to be on any other team," junior Erika Esponge said.
  The Liberty North Winter Guard team performed for the student body at the Courtwarming assembly this year, in January, touching the hearts of many students. Having the appreciation for the hard work that the team members put into their performances has had the greatest effect on those who are close to the sport.
  "Getting to watch from the stands this year has made me really appreciate all the hard work the team puts into it. You may not always feel the best about your performances, but as a spectator, the whole team looks absolutely radiant. I cried watching the performance at the assembly. I know how nervous performing for your peers makes everyone because all the negative stigma around guard, so it was amazing to watch everyone overcome that and be the team I knew they could be. A large majority of people know they could never get up and give the kind of emotional, powerful performance the team gave, and continues to give every year," junior Emily Pearson said.

About the Writer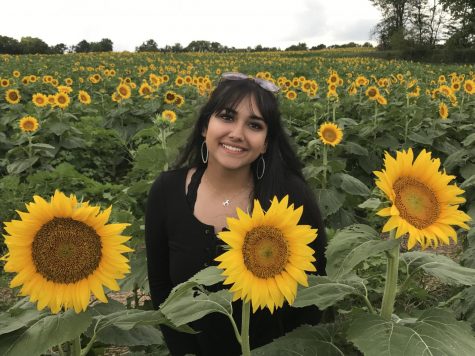 Aashree Gandhi, Eagle's Life Section Editor
I'm the Eagle's Life editor for the newspaper and the Senior Section editor for the yearbook. I am the Vice President of Key Club and am in LINK, Student...